TK-QP011C : Digital Pen Quran LCD
Kode Produk:TK-QP011C : Digital Pen Quran LCD
Ketersediaan: Tersedia
Quran ReadPen TK-QP011C
New With Hadith Shareef(Sahih Al-Bukhari), Complete Tafseer And Talking Dictionary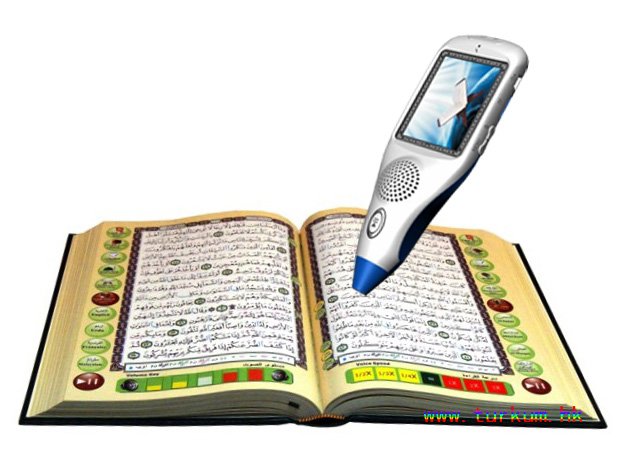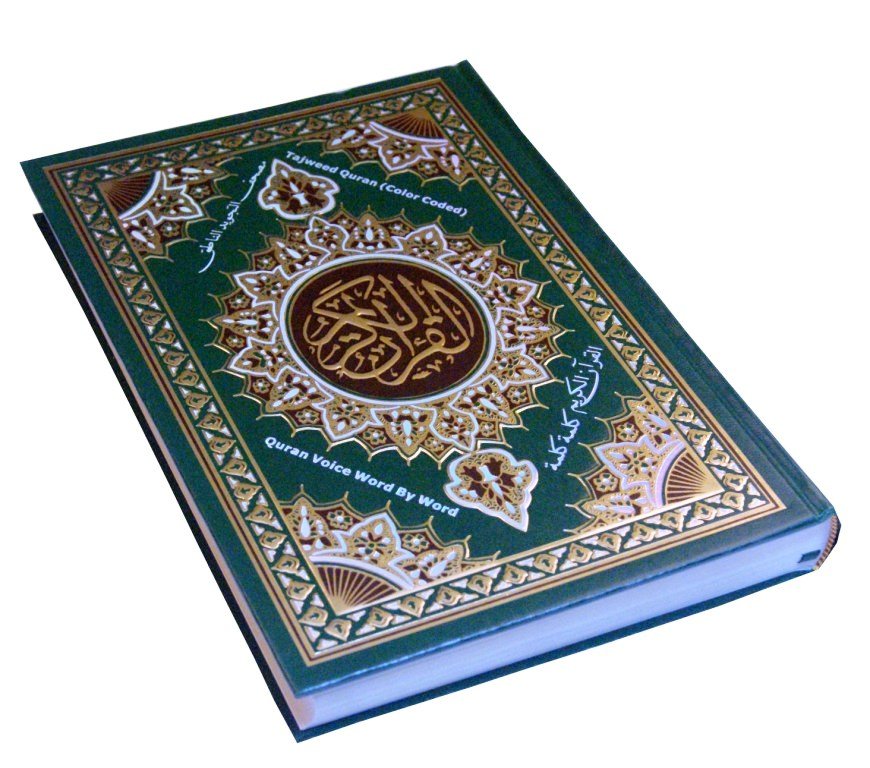 Product Description
Quran ReadPen is popular among Muslims as for listening or reciting or learning Holy Quran any time, any place; with built-in speaker and headphones
The most attractive part of Quran ReadPen device is that it starts the Recitation from where you want, by pointing the device on any Surah/Ayah of the Holy Quran (included in Gift Packing).
Product Features:
Point the Pen on Ayah or Surah of your choice (only the Printed Quran included) and start listning
Complete Holy Qur'an in voices of 18 famous Reciters namely: (Optional)
Al-Suadais & Al-Shuraim,
Al-Menshawi, Al-Ghamidi,
Al-Ajimy, Abdul-Basit,
Al-Hudhaify, Al-Afasy,
Al-Parheezgar, Al-shateri,
Hussary, Al-Marud,
Maher Al-Muaigy, Muhammad-Ayyoub,
Muhammad-Jibreel, Muhammad Al-Tablaway,
Hani_Rifai, Abdullah Basfar, Ibrahim Al-Akdar
Beautifull printed Holy Quran (Othmanic Style).
Option to store Other Qari/Reciter Audio,Dua, Adhan,Nasheed (File format: MP3) as optional in the pen via USB cable.Also include Quran Tafseer,Hadeeth Buhari and talking dictionary .
Please specify your favorite translation on the
order?s message when you make the payment, Otherwise, we
will be in accordance that sending the items with random translation
General Features:
Smart design
Clear and loud sound with built-in speakers and Headphone
Beautiful Pen with beatutifull Gift Packing
Includes Beautiful printed Holy Quran
Internal Li-Ion Chargable Battery
eacher Book,
Sahih Al-Bukhari, Travel Dictionary,
Function Card, Duaa Hajj & Umroh.
Sahih Al-Bukhari
It Includes more 6,000 Hadith when you piont the pen can explanie to you in Arabic.
A Great Use:
The Quran ReadPen improves Quran reading skills for learners. With audio support following skills can be achived:
Fluency in reading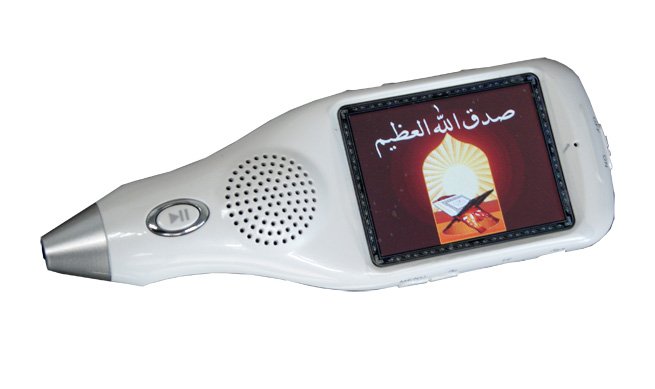 Arabic Vocabulary
Comprehension
Spelling
Pronunciation
Academic vocabulary
Grammatical structure
Teacher book includes:
A New Method for Learning,
The noble Qur'an, Through Pronunciation &
Speech and Parts 30 ( With a Brief Explanation
taken from the Pious Ancestors: Al-Baghawi,
Ibn Kathir, As-Sa'di & Others)
Product Specifications:
Built in 4G system memory.
- OID code technology
- Lithium battery built in
- Pointing Quran Surah or Ayat, it can sound
- reciter voices and translating voices can be choosed in the boo
- Another 5 reciter voices and translating voices optional in a separate card
Another 5 reciter voices and translating voices optional in a separate car
- It will automatically power off if not use for 3 minutes.
- Mini USB port,can connect with computer for new Holy Quran Book with 8 colorbooks.
- Holy Quran Book with standard size of 19.5 * 14 * 3.5 CM
- Holy Quran Book with 2 colors
- Holy Quran Book with 8 color printing include golden color.
- Holy Quran Book include indexes and 640pages in total.
- With 2 continoue reading icons inside the book,can choose recit the whole page or surah.
- With story and question icons inside the book.
- With Tafseer icon that why Allah say this verse.
- With repeat , record and volume control icons inside the book.
- Have the copyright for book from Syria government and copyright for reciting & translating voices,in very good quality.
Travel Dictionary Optional Language
A partner talking many languages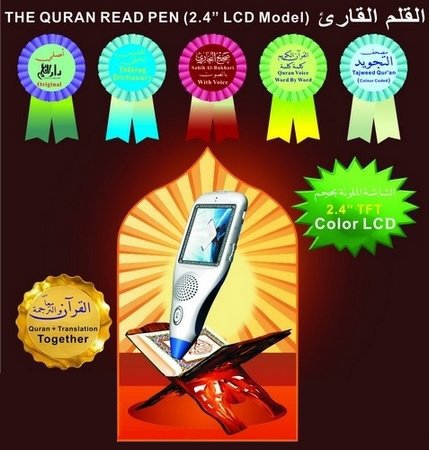 Korean, Portuguese, Spanish, Thai,
Turkish, Russian, Chinese, Arabic,
Dutch, English, French,German,Italian
and Japanese
22 Audio Translations:
English,French,
Persian, Chinese,
Urdu, Spanish,
Portuguese, Kridish,
Bahasa Malay,
Turkish,Russian,
Bahasa indonesia,
Thai,German,
Uzbekistan, Kzakhstan,
Pushtu,Kyrghyzstan,
Bengali
Packing Detail :
Net Wieght:
1.6 Kg (Complete Pack)
Gift Bag Size
26 x20.5 x 6.5 CM
Carton weight:
33KGs (20 pcs / Carton)
Carton Size:
68 x 55 x 35 cm
Include Tajweed Book
For children to learn
Arabic Alphat
Dialy Duas with 3 languages
such as Arabic,Chinese and English,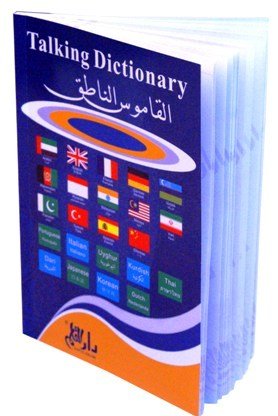 Praying Guide with photoes .
when you point the pen onthe photo
can explaine to you how to pray and
what you say during the pray .........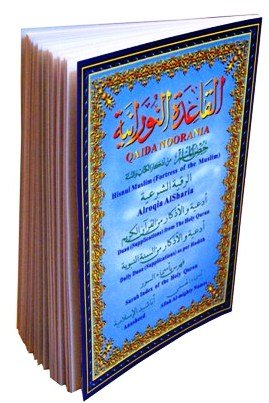 Tulis review
Note: HTML tidak diterjemahkan!
Rating: Jelek Bagus
Masukkan kode verifikasi berikut:
Jasa Pengiriman :
JNE dan Mex Berlian
Pembayaran :
Transfer Bank BCA, Mandiri, BRI